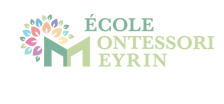 Ecole Montessori Meyrin is looking for a Montessori guide for our new primary class, opening end of August 2019.  
Native English speaker, 3 to 6 AMI Diploma or in training. Minimum 2 years of experience with children is a must (if possible, in a Montessori class). Intermediate French communication is an advantage.
Part time position (50%-70%) with expanding working time from the second year. Nice working environment, dynamic and enthusiastic team and interesting work conditions.
If you are interested please send you application (CV and motivation letter) to mentioning "3 to 6 AMI Guide Position".